Discover the Palmetto State's Rich and Fascinating History as You Explore the South Carolina History Trail!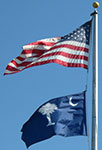 Few places in America can match South Carolina's colorful and extraordinary history, and much of it began here in northeastern South Carolina - in the areas known today as the Grand Strand, the Pee Dee Region and the neighboring Low Country.
It's one of the oldest inhabited areas in the United States, explored and settled by European colonists more than three hundred years ago and occupied by Native Americans ages earlier. A remarkable mosaic of people and events on the South Carolina History Trail have forged the history of our state and our nation - resourceful Indian tribes, bold explorers, determined colonists, African slaves, English sailors, infamous pirates, yeomen farmers, lumbermen, merchants, soldiers, frontier families, educators, political leaders and others.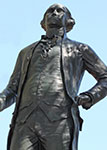 From the Colonial Period to the modern era, the men, women and children of northeastern South Carolina have endured the wilderness, storm, strife, blight, war, hard times and good times to secure freedom and success - crafting along the way a shared history that will fascinate you as a visitor or a resident.
The evidence of that colorful history awaits you - whether you choose to explore it for an afternoon, a day trip, an extended excursion or just an on-line tour. History buff? Vacationer? Resident? Student? No matter - you'll discover a site, a story, an event or something that will make your time on the South Carolina History Trail a memorable and meaningful adventure.

Please help us!
If you know of a historical site that you believe should be included on the Northeastern South Carolina History Trail, please use the following form to
Suggest a New Site
.
If you have additional information about, or corrections to an existing site, please
Submit a Correction
here.